Press release
01/07/2013 16:33 CET
Minister for planning and development visits Skanska's first residential development in Cambridge.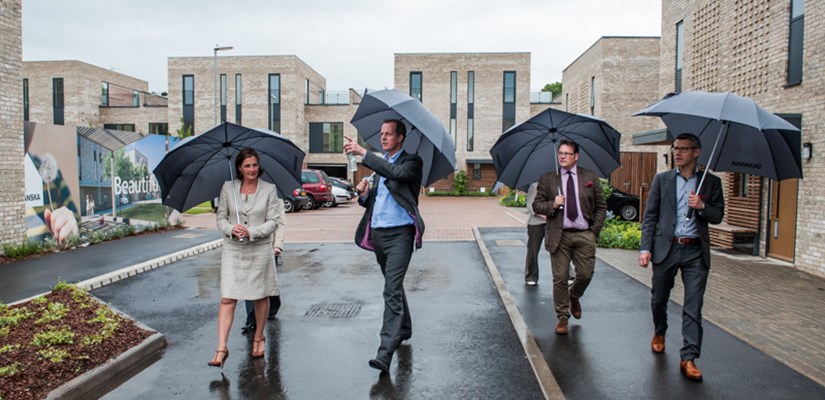 On Friday, Skanska UK's residential team welcomed Nick Boles MP, planning and development minister, to Seven Acres in Cambridge.
Earlier this year, the minister recognised Seven Acres as one of only five UK developments to meet the government's industry standard for well-designed homes and neighbourhoods. Skanska's first residential development was commended for meeting the Building for Life criteria, establishing it as a benchmark for successful developments in the UK. It was at this event that the minister asked to visit the site in person.
Sales and marketing director Suzanne Aplin and development director Jason Collard from Skanska's residential team joined managing director, development, Andreas Lindelöf and executive vice president Roger Bayliss on a tour of the show house and the rest of the site, which includes houses, flats and social housing, as well as a central green for all residents to use.
The Skanska team took the opportunity to explain how Skanska focuses on sustainability, functional design, place making and customer service when developing a site that will appeal to the market.
The visit was also an opportunity for the team to discuss with the minister the challenges that construction companies face and the role government can play in helping to overcome these.
"Skanska has built some beautifully light and airy homes at Great Kneighton," said the minister. "I applaud them for designing a development that meets the Building for Life standards."
"This was a great opportunity to showcase what we have been doing in the residential market," said Roger Bayliss, "and to discuss some of the wider issues and opportunities, in this market and construction in general."
Homes by Skanska will be launching its next development in Cambridge later this year, and has plans for further developments in the south west.