Press release
02/12/2013 13:34 CET
Women in the City is pleased to announce that Katy Dowding, Managing Director, Skanska's Facilities Services operation, has won the prestigious Women in the City Woman of Achievement Award for 2013.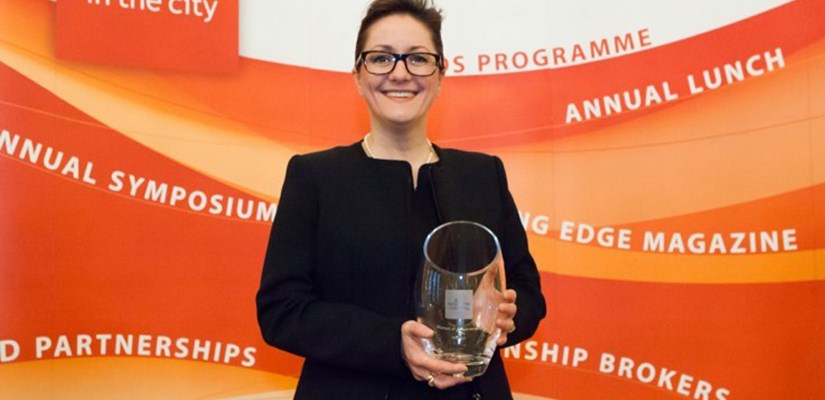 The Award was announced on Friday, 29th November at the 11th Annual Women in the City Celebration Lunch held at Plaisterers' Hall, London.
On presenting the Woman of Achievement Award the Rt Hon The Lord Mayor of the City of London Alderman Fiona Woolf CBE, commented; "I am delighted to present this award to Katy in recognition of her service in a high profile role. Businesses need to make sure they employ a true meritocracy that enables the best people to rise to the top regardless of their background in order to capture the benefits of diversity. Women in the City is a force for good in the business community."
Within Skanska, as Managing Director of Skanska's Facilities Services operation, Katy manages a business with 600 employees and turnover of £70 million. She is only the second woman to hold a Managing Director role in Skanska UK and the first for the facilities business.
On winning the Woman of Achievement Award Katy Dowding said; "It really is a great honour to receive this award and to be recognised by such an inspiring group of women.
"I am a strong supporter of women in business, particularly in the facilities and construction sectors. I hope this award encourages fellow women in my industry to be brave - to be yourself, develop your skills and grab those opportunities when they come along. Thank you to all of those people who have helped me over the years."
In response to Katy Dowding, Managing Director of Skanska Facilities Services, winning the Women in the City Woman of Achievement Award for 2013, Gwen Rhys, CEO of Networking Culture Ltd and Founder of Women in the City, said;
"Our Awards have impact. Many of our previous winners have gone on to even greater achievements and we're delighted that for the first time the winner comes from our Facilities Management category. Without doubt, Katy Dowding is an exceptional woman with impressive business acumen. From being the only woman to complete the RICS course in her group, she has driven her businesses to excel whilst at the same time going beyond her everyday job to be a strong champion for women in the profession."
The Award judging panel was chaired by Prof Susan Vinnicombe, OBE, Director, Cranfield International Research Centre for Women Leaders. The main Woman of Achievement Award prize for 2013 includes a place on the prestigious Accelerated Development Program delivered by the University of Chicago Booth School of Business at its London campus.
Katy Dowding was the winner of the Facilities Management Category which is sponsored by Gather & Gather and MITIE, as well as being endorsed by the Facilities Management Association. Eight finalists, who each won their categories, competed for the overall prize and award having progressed through a three stage judging process.
Heidi Stone, Head of Sales & Marketing at Gather & Gather, said; "I am delighted that Katy has won the overall Woman of Achievement Award. She is a fantastic role model for women in FM, having consistently developed, mentored and proactively championed women in this very male dominated industry throughout her career."
The principal aim of the Women in the City Woman of Achievement Award is to highlight and formally recognise those women who, as well as fulfilling a demanding senior level role, are making sure that skilled and intelligent women are being supported to remain and progress in the workplace. For more information on Women in the City, and how to get involved in 2014 click here here.
Photograph by Karla Gowlett