Press release
30/09/2013 10:31 CET
More than two hundred people took the opportunity to visit one of five Skanska construction sites as part of this year's Open Doors Weekend.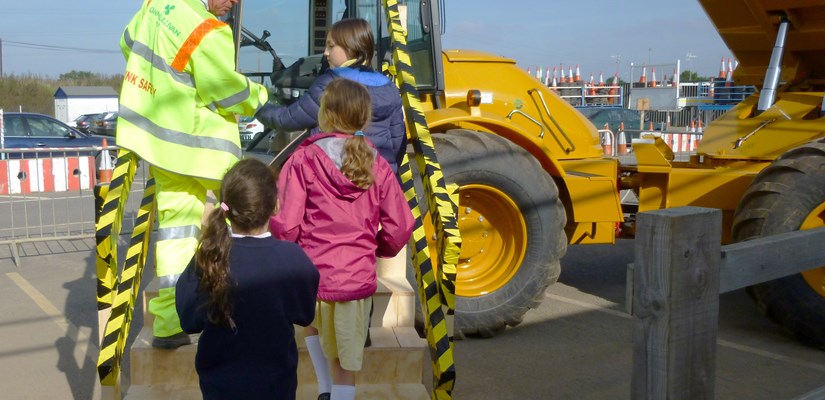 Members of the public, including university students and school leavers wanting to pursue a career in the industry, as well as those just curious to find out more about life behind the hoardings, took part.
St. Bartholomew's Hospital, the Royal London Hospital, Crossrail Paddington Station, M25 junctions 5–7 and 23–27 managed motorway and the Thurrock campus of South Essex College all participated in the activities.
As part of the weekend, held on 27 and 28 September, participants were given the opportunity to meet site staff and see construction works in action. The aim of the event was to encourage people to learn more about the career opportunities available in the sector.
Mike Putnam, Skanska UK President and CEO, went on a tour of the St. Bartholomew's site. He said:
"It was great to meet people from a range of backgrounds, including a practicing architect, those looking for a career change as well as university students and school children.
"The tour really helped put into perspective the sheer scale of large and complex construction projects and the varied career opportunities available.
"We were delighted to support Open Doors Weekend again this year. It's a one-off chance to not only see what happens, but also speak to those who make it happen and really bring it to life."
Among those attending was Daniel White, Art, Graphics and Engineering teacher at Westminster Academy. He was there with a group of year 7 and 8 students. He said:
"I thought it was a fantastic tour and a good chance to get out on a working site.
"We wouldn't normally get this kind of opportunity and it was a great experience for the students and something they can take back into the project work they are doing at school.
"We're currently working to design an eco-friendly classroom and adjacent wildlife garden for use by the school and local community.
"The students are going to make a small scale 3D model showing their own ideas, with the aim of getting them interested in careers in the construction industry."
Kirubel Alayu, who is 12 years old and in year 8 at Westminster Academy, said:
"Normally when you look at construction sites they can look boring but to go inside it really opens your eyes. The tour guides were good and gave a really interesting tour.
"I wasn't that interested in construction before but this has made me think differently and it's something I'd consider in the future."
Filmon Tekle, who is 13 years old and also in year 8 at Westminster Academy, said:
"It was good and I liked the people who were working there. They made the tour interesting.
"I was surprised because I didn't expect the site to be so clean and tidy. I like to do design at school so I would be interested in a career in construction in the future."
The weekend was set up as a result of a partnership of four leading industry bodies; the UK Contractors Group (UKCG), CITB-ConstructionSkills, The Considerate Constructors Scheme (CCS) and the Chartered Institute of Building (CIOB).
To find out more about the Open Doors Weekend go toopendoorsweekend.co.uk
Links