Press release
09/10/2013 16:05 CET
The Skanska team working on Crossrail took part in an 'exchanging places' event to help promote safer cycling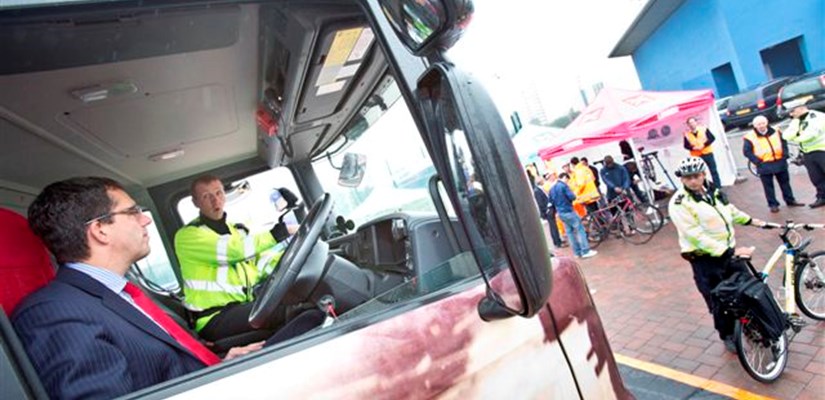 The Costain Skanska JV (CSJV) has joined Crossrail's campaign to make London's roads safer by taking part in an 'exchanging places' programme at the Mile End Park Leisure Centre.
Two of CSJV's subcontractors, Gordon and O'Donovan Waste Disposal, parked their heavy goods vehicles in the leisure centre coach parking bays created by CSJV as part of the contract enabling works. Visitors were given the opportunity to sit in the driver's seat to get a better understanding of what a lorry driver can and cannot see from their cab and where vehicle blind spots exist.
Crossrail is leading the industry in heavy goods vehicle safety by requiring haulage contractors to fit additional safety equipment to their vehicles and for their regular drivers to undergo a one-day training course.
Crossrail's road safety initiatives have the full support of all its principal contractors, including CSJV, who are fully committed to helping make London's roads safer.
Skanska Operations Director, Glennan Blackmore, said:
"The 'exchanging places' event was a great success and I'm glad that those who attended will go away with a much better understanding of cycle safety, including what an HGV driver can and cannot see.
"We will continue to support efforts to broaden safety awareness, in the capital and beyond."
Martin Griffiths, Costain Community Relations Manager working for CSJV on the Eleanor Street and Mile End shafts (Crossrail C360) added:
"The aim of the day was to raise awareness of safety requirements for vehicles, cyclists and pedestrians.
"Cyclists had free security marking, bicycle safety checks and hi-vis giveaways. The day was a great success and everyone went away with a better understanding of the dangers associated with cycling on roads close to construction vehicles."
To offer greater protection to cyclists in London, Transport Minister Stephen Hammond, London Mayor Boris Johnson and London's Transport Commissioner, Sir Peter Hendy CBE, recently announced a series of measures to improve cycle safety in London, including the enforcement of HGV standards.
The event at Mile End Park Leisure Centre was held on Wednesday 2 October.