Press release
12/11/2013 06:58 CET
A new building in the City of London moved a step closer to completion with the topping out of Moorgate Exchange, an eye-catching 12-storey office development.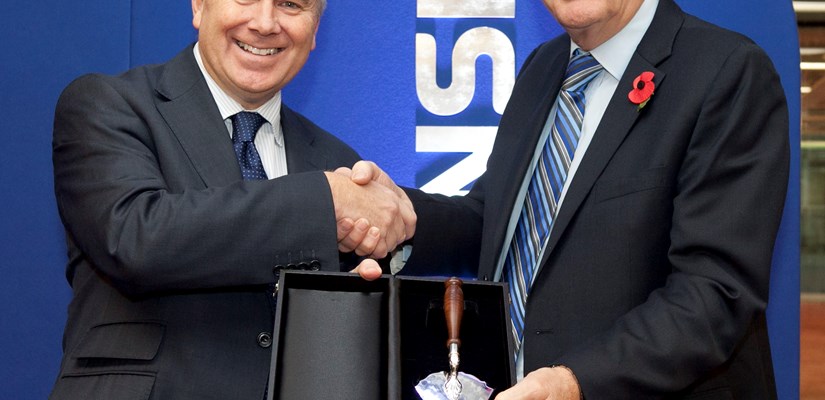 The ceremony, held at the end of last week, was attended by London's deputy mayor for planning and chief of staff Sir Edward Lister. Topping out is a phrase commonly used to describe the traditional celebration of the completion of the building's main structure.
The 218,000 sq ft (20,252 sq m) building is the latest addition to Skanska's portfolio of commercial office space in the City. On completion in the spring of 2014, Moorgate Exchange will feature six landscaped roof terraces and spectacular views of London.
The building, which offers office accommodation over 12 floors, including a two-storey basement, is on target to achieve a BRE Environment Assessment Method (BREEAM) 'excellent' rating and Leadership in Energy and Environmental Design (LEED) Platinum accreditation.
The materials used in the construction process were selected because of their sustainable properties, such as recycled aggregates in the concrete. Recycled rainwater and grey water storage systems have been installed to reduce the amount of potable water used in the toilets and the irrigation system for the terrace 'living' walls.
The project team's work will provide the client with an energy-efficient building, reducing the tenants' energy consumption through technologies such as LED lighting, low-energy fan coil units and highly efficient chillers and boilers.
Paul Chandler, Executive Vice President for Skanska UK, said: "We are delighted to have had the opportunity to apply our knowledge in sustainable construction to this building.
"The development will become a notable addition to our portfolio of high-quality offices in the City, which includes 30 St Mary Axe (the Gherkin) and Heron Tower.
"Working in a residential area in the City of London with restricted working hours is always a challenge but it is one we have risen to, at the same time developing solutions which provide long-term value for money and environmental benefits."
Sir Edward Lister Deputy Mayor for Planning said: "I'm delighted that this innovative new building, with its excellent green credentials, is now one step closer to completion. Providing much needed office space in the heart of the city and helping to drive jobs, it is another positive sign of London's economic recovery."
CarVal Investors are funding the development and Quadrant Estates is development consultant.
Alongside Skanska, the project team includes HKR Architects, Pringle Brandon Perkins+Will as client monitoring architect, GVA Second London Wall as project manager and Gardiner and Theobald as QS. Ramboll is the structural engineer and Hilson Moran is providing building services, energy and sustainability consultancy.
To deliver this project, Skanska put together a specialist in-house team to combine its skills in design, construction, mechanical and electrical engineering and ceiling installation.