Press release
06/02/2015 08:40 CET
Skanska's commercial development at 66 Queen Square, Bristol, has reached its highest point in the construction process. Today's topping out ceremony marks an important milestone in bringing this new, 61,000sqft (5,667m²) landmark office building to the Bristol market.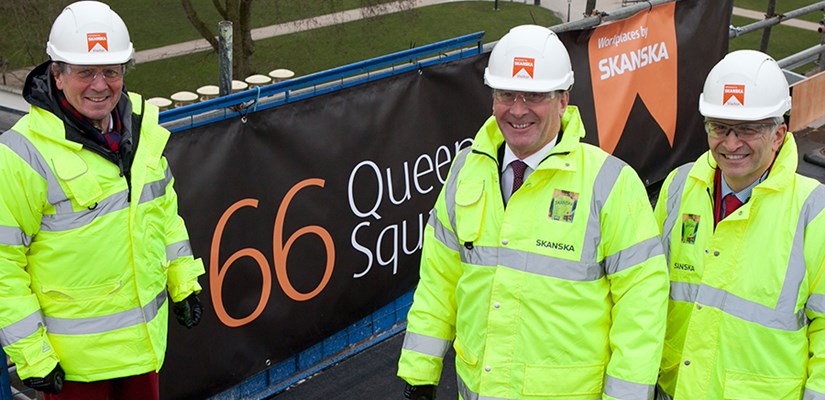 During the event, George Ferguson, Mayor of Bristol, and Mike Putnam, Skanska UK President and CEO, tightened the last bolts in the steel frame of what will be Skanska's first commercial office development in the UK in recent years.
The event brought together many of Skanska's clients, partner organisations and employees, including representatives from KPMG, which has taken a 15-year lease on 85 per cent of the building. Skanska and KPMG also highlighted their official partner status with Bristol 2015 for the city's year as European Green Capital.
Mike Putnam, said: "We're very proud that our 66 Queen Square development is helping to restore a beautiful, historic part of Bristol. The award-winning building will also provide modern, energy-saving measures to increase sustainability and cut carbon, helping Bristol to become an even greener city."
George Ferguson, Mayor of Bristol, commented: "This development is an excellent example of what can be achieved when the city and a conscientious business work collaboratively. Bristol will have a great new office space, which makes a positive contribution to the local environment."
Phil Cotton, Bristol Office Senior Partner at KPMG, said: "We want to reduce the impact we have on the environment as a business, and our property portfolio plays a leading role in this. The sustainable features at Queen Square will help us to reduce our energy consumption and CO2 emissions, and provide a fantastic environment for our staff in the heart of the city. We are delighted to take one step closer to moving into this iconic building."
Situated in one of Bristol's prime business locations, construction of 66 Queen Square will complete in the summer. The grade A office space integrates a grade II listed Georgian terrace with the new building, combining historic elegance with modern, efficient office space and fantastic views over the square.
The building incorporates sustainable features for long-term energy efficiency, including photovoltaic panels, LED lighting and water-saving fittings to meet the BREEAM Excellent standard and an EPC A rating.
An award-winning project before construction has even completed, the office development was crowned BIM Project Application Award winner in the annual British Construction Industry Awards 2014.
Just 9,000sqft (836m²) is now available to let, comprising 3,000sqft (279m²) on both the ground and fourth floors, in addition to a self-contained 3,000sqft (279m²) unit at 72 Queen Square.
Alder King and JLL are letting agents for the development.