Press release
12/02/2015 13:30 CET
Speaking at a breakfast event hosted by the Swedish Chamber of Commerce for the UK yesterday in London, Mike Putnam, Skanska UK's president and CEO, said there were several reasons for his pride in being part of a Swedish business.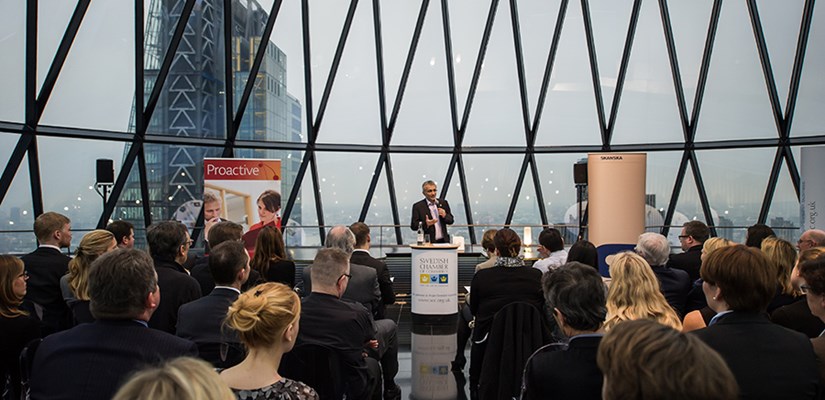 "Culturally, the Swedes take a particularly ethical stance on business matters," he said. "There is also a straightforward and transparent approach, giving the facts as they are, without underplaying or embellishing them."
The event, entitled 'Good Country, Good Company?', was held at The Gherkin in London, built by Skanska, and featured a keynote speech from Professor Simon Anholt, the well-known expert on nation brands.
Mike Putnam also spoke about the approach to sustainability and the focus on consensus being key distinguishing factors for Swedish businesses.
"I'm glad to be associated with Swedish values like these," he said. "But let's not forget the many positive things that the various Skanska businesses around the world contribute back to our Swedish parent. The high standard on safety in the UK is one example."
The audience, from a range of Swedish companies based in the UK, heard Skanska UK's CEO speak about people's assumptions that Swedish companies were green, ethical and innovative.
"Happily, for Skanska, that's all true," he said. "We genuinely do lead the market in green construction; we do have a good reputation as a fair employer; and we have a strong ethical approach to business with a clear code of conduct to follow. We also work hard to promote our work in areas like the use of new technology in construction – usually driven by a desire to be greener, cut carbon, reduce costs and create something that makes a positive contribution to society.
"Our values and approach to business are massive differentiators in a market of 280,000 construction companies. Many say they are green or ethical, but what makes us stand out – and we receive countless awards proving this – is that we really do live our values."