Press release
20/02/2015 10:05 CET
Skanska's Bath Spa University 'Commons' project has won a Bath & North East Somerset Council Building Control Award for Building Quality.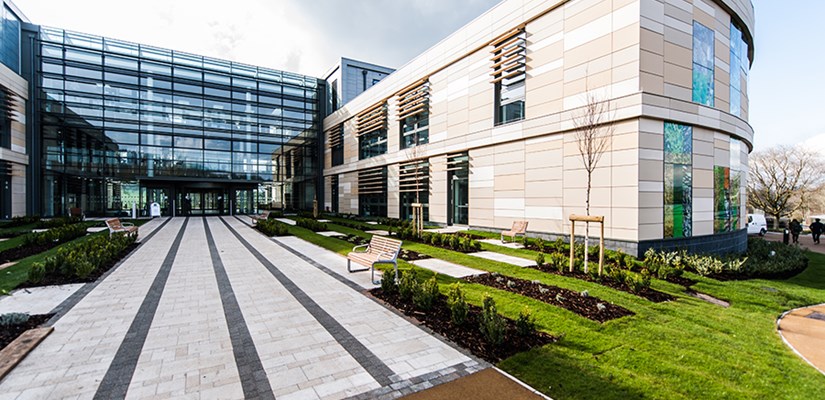 The awards, run annually to promote and reward those in the construction industry working in the Bath and North East Somerset area who excel in their achievements, recognised the world-class development at the university.
'Commons' is the new state-of-the-art academic building which is part of a larger investment project by the University. It has a range of facilities, including 1,800 square metres of teaching and learning space and a superb new digital studio and editing suites for media related courses. It also includes a giant two-storey high media wall as well as an outdoor amphitheatre, new places for students to socialise and a café.
Cllr Tim Ball, Cabinet Member for Homes & Planning, said: "This is the fifteenth year we have run the awards and the judges have once again been impressed with the high quality of the entries. It is excellent that the Council's Building Control Section can use this scheme to promote high quality in building construction and design in our area.
"The Building Control team received over 1,100 building regulation applications last year so the winners have done very well to succeed against all the potential competition."
Professor Christina Slade, Vice-Chancellor at Bath Spa University, said: "I am delighted that 'Commons' has won this award. This new building is a significant part of a long-term investment in the student experience at Bath Spa. The high quality facilities provided by Commons will help ensure our graduates are well prepared to meet the needs of the growing creative industries as they go on to work across the creative economy, both in the UK and abroad."
Terry Elphick, Skanska Managing Director said: "We're very proud of our work at Bath Spa University. The team delivered above and beyond expectations and it's great to receive this external recognition from one of our key stakeholders."
The project achieved an 'excellent' rating in the BREEAM system of measuring the environmental friendliness of buildings. A biomass boiler in the separate energy centre is the main source of heating. Rainwater harvesting and solar panels help the building to be as green as possible.