What is zero trim
Zero trim is a piling technique developed jointly by Cementation Skanska, the Skanska Costain STRABAG joint venture that is delivering the London tunnels section of HS2 and specialist sub-contractor Hercules Site Services. The technique uses a vacuum excavator to suck out excess concrete from a pile while it's still wet – traditionally concrete is overpoured and then site teams have to break out the excess concrete.
This can lead to health problems, including hand-arm vibration syndrome, hearing loss and silicosis. The new approach removes the need to do this, creating a much safer method for people in the industry.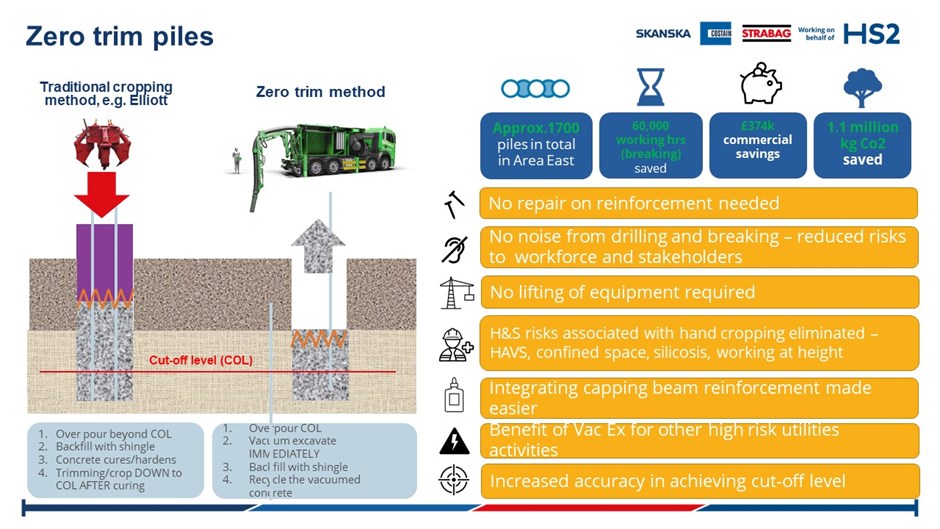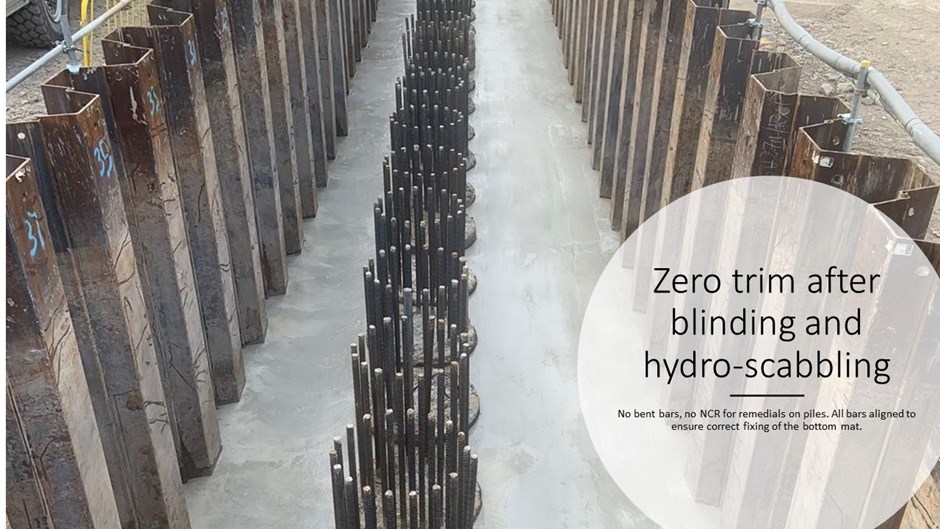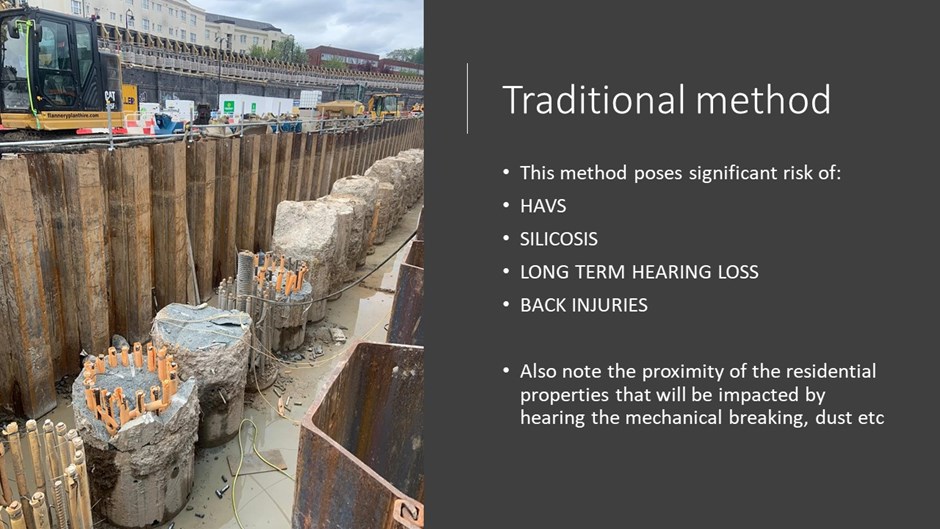 What are the benefits
In addition to much improved health benefits, through the reduced risk of hand-arm vibration syndrome, hearing loss and silicosis, there are additional positive benefits, including through carbon and noise reduction.
Zero trim uses significantly less concrete, leading to significant improvements in carbon reduction supporting our commitment to achieve net-zero carbon emissions by 2045. Through our work on HS2, being delivered by the Skanska Costain STRABAG JV, the extracted concrete is retained on site and being reused in construction elsewhere. This reduces carbon in construction, including through reduced lorry movements to and from site.
Noise reduction is also important on projects, particularly on our work for HS2, where construction is taking place in a busy city centre location, with residential homes, businesses and transport hubs close by. Zero trim reduces the time required on site and, through not having to break-out excess concrete, is significantly quieter. On the HS2 project we are installing approximately 2,000 piles – zero trim will require an estimated 60,000 fewer working hours.
How was it developed
Zero trim was made possible thanks to a fantastically collaborative approach involving the Skanska Costain STRABAG JV and Hercules Site Services who, through extensive trials, worked to perfect the vacuuming technique. This included factory and onsite testing to validate the integrity of the piles constructed using the new technique.
Cementation Project Director Deon Louw, who helped develop zero trim piling said: "The technique is making a tangible difference on site; it's much safer for our people, less noisy for our neighbours and is a much quicker form of delivery. Significantly, it also uses less concrete meaning we can cut carbon emissions.
"Longer-term, we'll be looking to see how we can use this innovation on future projects. It really does have the potential to be a game-changer for our industry."
Lee Piper, Site Superintendent for Skanska Costain STRABAG JV, said: "I have worked in the construction sector for over 20 years, and the same piling techniques have been used throughout that time. Working with colleagues I saw an opportunity to try a new approach and was supported to do so by HS2 as the project client."
Malcolm Codling, Client Director for HS2, said: "HS2 is an ambitious project and to deliver it, we need to innovate. We are proud to be supporting our contractors to deliver these world class transformational innovations, and to support them to be adopted across the project to help reap the benefits."