Ground anchors generally provide the required resistance by transferring the tensile loads deep to the ground using grouted tendons. These tendons can be in the form of high yield reinforcement bars, steel strands or wire. In special circumstances these strands can be installed with later removal in mind. If future excavation is required in the anchor zone, GFRP (glass fiber reinforced polymer) tendons can also be utilised.
Cementation Skanska's experienced ground engineering and technical teams will select the appropriate tendons to suit the engineering requirements of your project. Where tendons are used in the permanent condition over two years, corrosion protection methods are applied to the design and installation of the tendons. In addition, CSL will design the spacing, diameter, anchor length and construction technique to suit the site specific geological conditions and loading requirements.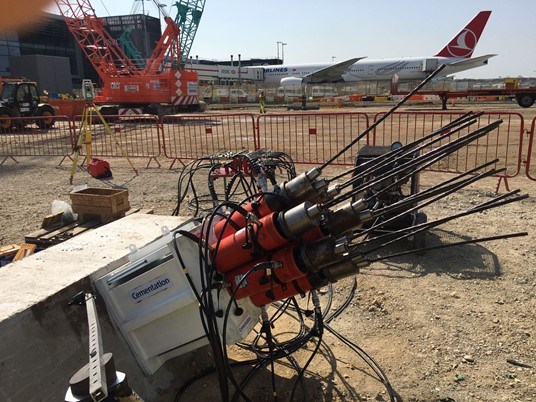 Drilling techniques
The anchor bores can be drilled using a variety of techniques depending on the geological stratigraphy. These include rotary methods in soils and weaker rock and rotary percussive methods in more varied stratigraphy and strong rock. The type of drill rig used can also be varied to suite the access, working room and ground conditions.
Testing and Long term monitoring
To provide the optimum design solution and meet the code requirements, Cementation Skanska provide testing and long term monitoring of ground anchors. In addition to the standard load testing and visual examinations, CSL can also offer short term and long term strain monitoring within the anchors using DFOS (Distributed Fibre Optic Sensing).
This provides a continuous strain profile over the full length of the ground anchor which can be invaluable during ground anchor design refinement following investigation tests. This is especially useful when used in conjunction with multistage ground anchors, which use multiple discrete unit bond lengths to improve efficiency and achieve high loads in poor ground. The DFOS can be used to review and optimise the complex interaction of forces between the various stages of the anchors.
Engineering steep slopes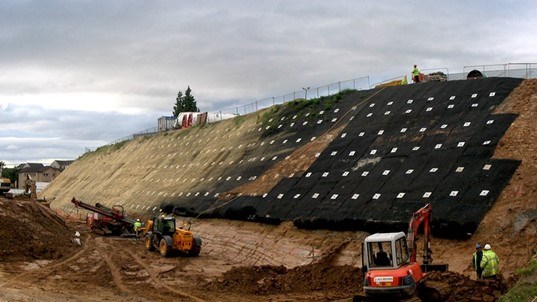 Soil nailing is a slope stabilisation process that uses fully bonded ties installed in the ground. These are usually grouted bars, made from steel, stainless steel or glass fibre and can be solid or tubular.
Soil nails can be drilled in using a grout flush pumped through the centre of the nail during installation, or the tendons can be placed into or grouted into pre-drilled holes. Soil nails are usually used in conjunction with a face mesh or geotextile, held in place with a bolted plate at the head of the nail. These mesh-covered slopes are commonly seeded, allowing vegetation and roots to stabilise the surface soils.
On steeper slopes a sprayed concrete structural facing can also be utilised to protect the face of the embankment in conjunction with the soil nails.